State of play: Forest Preserve Golf puts safety first
Wednesday, May 20, 2020
Cook County Forest Preserve Foundation
Naturally, with the spring season reaching its peak greenness, every golfer wants to hit the links. Golf is still happening in the Preserves, with some restrictions because of the COVID-19 pandemic and statewide orders to maintain safe and healthy distances.
For the Foundation, golf plays a key role in our yearly events calendar. The Conservation Cup is our primary fundraiser—and it will go on this September at a slightly later date. We look forward to hosting friends and supporters for another fun day at George W. Dunne National in Oak Forest.
Even with the restrictions, Forest Preserve Golf management still wants players to enjoy Cook County public courses like Dunne. The new rules are designed to put players' safety first. With a new date of Sept. 30 set for the Foundation's ninth annual Conservation Cup, we spoke with Host Committee member Josh Geppi, who is also the general manager of George W. Dunne National, about the current status of Forest Preserve Golf.
"We have a really big golf course, and we've got plenty of space out here," Geppi says to assure players that everyone can maintain a safe distance on the course.
Read the rest of the Q&A with Geppi
CONSERVATION CUP 2020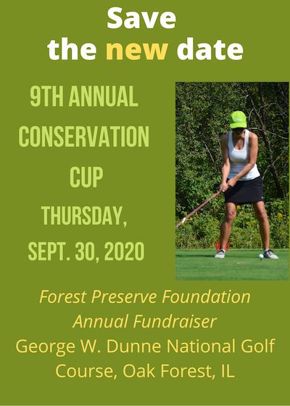 We're pleased to announce a new date, Sept. 30, for this year's Conservation Cup golf outing, the Foundation's premier fundraiser. We will be following COVID guidelines and providing all golfers with clear, up-to-date information as the date approaches.
Sponsorships are now available. Visit our Conservation Cup page to view levels and benefits.

Recent Headlines
A Naturalist's 2020 Quest: Find 2,500 Living Things In The Wilds Of Cook County
Thursday, August 13, 2020
WBEZ News
Coronavirus in Illinois updates: 1,645 new known COVID-19 cases reported as state releases $46 million from federal relief act to 2,655 small businesses
Wednesday, August 12, 2020
Chicago Tribune
Chief Judge Orders Cook County Courtrooms Closed After Looting
Wednesday, August 12, 2020
Chicago Crusader
Coronavirus trends in Illinois not looking good: 'My concern is growing each day,' says public health director
Wednesday, August 12, 2020
Chicago Tribune
Cook County's Travel Quarantine List Updated to Include 20 Locations
Wednesday, August 12, 2020
ABC 7 Eyewitness News
Looting has city, county, state officials pointing fingers in all directions
Tuesday, August 11, 2020
The Daily Line
Coronavirus in Illinois updates: 3 states removed from Chicago's travel quarantine list; 1,549 new confirmed cases, 20 deaths reported
Tuesday, August 11, 2020
Chicago Tribune
County, federal courts closed today
Monday, August 10, 2020
Chicago Daily Law Bulletin
State's Attorney Kim Foxx bristles at insinuation her office's handling of earlier cases emboldened looters
Monday, August 10, 2020
Chicago Tribune
Foxx bashes 'dishonest blame games,' calls for 'honest conversation' after night of looting
Monday, August 10, 2020
Chicago Sun-Times
Chicago needs leaders, not elected officials looking for scapegoats
Monday, August 10, 2020
Chicago Sun-Times
Foxx Pushes Back on Criticism From Lightfoot, Brown After Looting
Monday, August 10, 2020
WTTW News
New Cook County ethics rules due for September resurrection as appointed board nears 6-month hiatus
Monday, August 10, 2020
The Daily Line
Kim Foxx drops more felony cases as Cook County state's attorney than her predecessor, Tribune analysis shows
Monday, August 10, 2020
Chicago Tribune
How we analyzed Cook County State's Attorney Kim Foxx's record on dropped cases
Monday, August 10, 2020
Chicago Tribune
State offering $5,000 grants for tenants struggling to pay rent amid pandemic. Here's how to apply
Monday, August 10, 2020

Preckwinkle: Dramatic rise in suicides among Cook County's Black population
Sunday, August 09, 2020
Daily Herald
1,382 New COVID-19 Cases in Illinois, 8 Additional Deaths
Sunday, August 09, 2020
WTTW News
'The need remains critical': Rent and mortgage relief arrives as state, county announce $320 million in grants
Saturday, August 08, 2020
Chicago Tribune
Preckwinkle Announces COVID-19 Recovery Rental Assistance Program
Saturday, August 08, 2020
Journal and Topics Online